Is pressing 5 times to power on too fussy for you? 
Ever broke the glass tube of your tank, and couldn't find a place to buy a suitable one?
Looking for an upgraded pod mod, but can't make a decision because there are too many products out there?
Look no further, Vaptio Cosmo A1 kit can meet all your requirements. The much-anticipated Cosmo A1 was launched by Vaptio, who created the Cosmo legend and believes that the successful story will continue.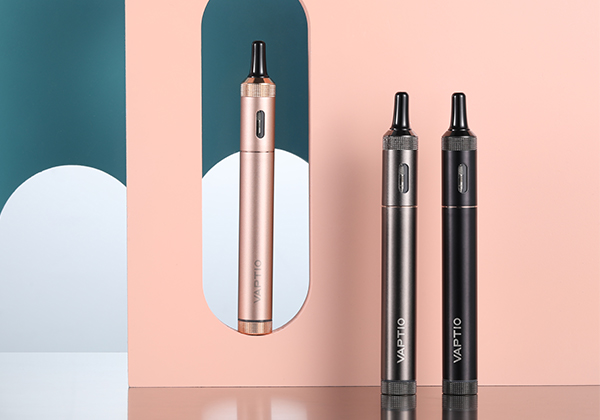 KEY FEATURES:
*Twist to power on, easy to use
*Upgraded Cosmo coil
* Full metal body, tough and durable
* Top filling and precise adjustable airflow
* Pull and plug to change coil
Cosmo A1 kit aims to be the most easy-to-use and the most fully-protected device. It innovatively adopted a simple and special power switch, whose bottom ring can be twisted easily to power on/off. The eye-catching LED light above the bottom ring shows the signal of the powering on or off.
And the glass tube of the tank is relatively unbreakable, because the metal cover surrounding it can protect it from damaging. Even if there are accidental drops or falls, the glass tube wouldn't be broken.
For the flavor, Cosmo A1 adopts the upgraded Cosmo coil, so it can guarantees you with flavor-boosting and throat hit. Even if there's only one C5 coil with a 1.0ohm resistance in the package, Cosmo A1 is compatible with 2 other Cosmo coils (C1, C3 coils).
SPECIFICATION:
C5 Coil: 1.0Ω(8-13W)
Built-in Battery: 900mAh
Charge Current: 5V/1000mAh (max)
Indicator: LED Light (White/Red)
Tank Capacity: 2.0ml
Output Watt: 15W(max)
USB Type: Type C
Fill Type: Top fill
Airflow: Adjustable airflow
Colors: Black, Grey, Rose Gold
For more info: https://www.vaptio.com/CosmoA1.html